Anna Parker – Director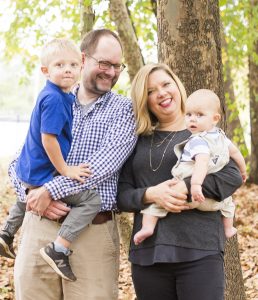 Hi! I am a lifelong Montessorian who has experienced Montessori education as a student, a camp counselor, an assistant teacher, a lead teacher, a mother, and now as the director of Asheville Montessori School.
I grew up in Lincoln, Nebraska where I attended Prairie Hill Montessori School from ages 4-7 (through first grade.) I continued to attend summer camps every summer, and when I turned 13 asked if I could work as a camp assistant. At age 16 I began leading my own group of 3-6 year olds at camp where I loved singing songs and exploring the prairie and farm animals under the guidance of extremely experienced Montessori educators. From there, I went to Kansas State University and graduated with a BA in Philosophy and Spanish including two study abroad experiences (Ronda, Spain and Buenos Aires, Argentina). After graduation I moved to Asheville in 2005 to enjoy the beautiful mountains.
Once here, I began looking and found a wonderful school where I hoped to begin my Montessori career, at Asheville Montessori School. In January of 2006 I began as an assistant teacher, then began my Montessori training that summer. I began my certification through the NC Center for Montessori Teacher Education the summer of 2006 and was the first teacher to teach in the "yellow classroom" beginning January, 2007. I completed my training the summer of 2007 and continued as lead teacher there for nine years until I was 7 months pregnant with George in 2015. During my teaching time I loved supporting children and watching how they thrived in a Montessori environment. Having Nan Gregory as a mentor really helped deepen my confidence. I also started to form a new dream, which I sometimes discussed with Nan, of one day being the director of Asheville Montessori School.
During this time I also met and fell in love with Andrew Parker who I married in 2013. We have two beautiful sons, George (5) and John (1). When George turned 3 I was so excited for him to begin his Montessori education in my old classroom! He is now in his third year, as a kindergartner. It's been wonderful to experience the Montessori classroom as a parent! In my free time I enjoy going on hikes and bike rides with my family, cooking, swimming, and listening to music.
In spring of 2020 I completed my Early Childhood Administration certification from Haywood Community College. I have been loving getting to experience Montessori from this new perspective, as the director! I look forward to meeting and working with you!