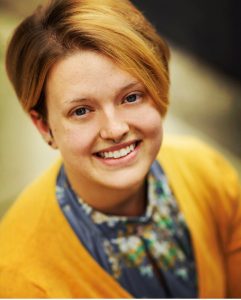 Hi there, my name is Caitlin and I'm happy to be a member of the Asheville Montessori School as an assistant teacher in Ms. Tori's class during the majority of the school day, and as an administrative assistant in the office during the afternoons. I was born and raised outside of Atlanta, GA, and lived in California for a few years to complete my B.S. in Chemistry from Stanford University. I had the opportunity to work in chemistry and biochemistry research labs at my alma mater, and I spent 2 years post-graduation working in research and development for a biotechnology start-up company in Silicon Valley. I moved to Asheville in the summer of 2015, seeking a better climate for my mental health and the well-being of my spirit. I must say, I fell in love with the city, which has the friendliness of the South combined with the quirkiness of San Francisco. Three years later I have no plans to leave and continue to put down deeper and deeper roots.
As a developing young adult, it has been my great pleasure and freedom to recover the knowledge that love is not a limited commodity (it is available in limitless supplies!) and that our worthiness is not earned through external achievement, but rather is intrinsic and unshakable. Children have not yet lost this knowledge, and it is my passion to nurture this inherent wisdom that we each come into the world with, and my privilege to be reminded of it every day in my work. I love how the Montessori environment fertilizes the soil for each child to grow in his or her own way, and it is my sincere hope to contribute to an environment which allows every being to be the brightest, happiest, most secure and loving version of themselves they can be. I hope to contribute to creating safety and space for the children to grow into themselves.
This year, I have an additional, new role at AMS. In the mornings I am an assistant teacher in Ms. Tori's class. In the afternoons, from 1pm-3:30pm, I transform into an administrative assistant in the office, helping especially with IT related matters. In this role, I will have the pleasure of being one of the faces and names interfacing with the larger AMS community.
Outside of school, I enjoy spending time cooking and enjoying meals with my partner, spending time with his 8 year old daughter, and taking care of our (too many!) pets, 2 chameleons, fish, 2 Holland Lop bunnies, and a dog, Charlie. I love to talk to others about emotions and finding meaning and safety in our own skins. Recently I've been really into health/fitness, camping, and figuring out how to rabbit-proof our apartment.