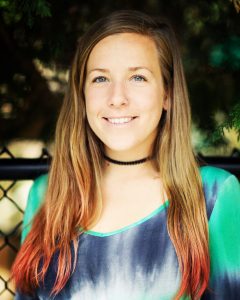 I love my job! I have had a passion for Montessori for over half my life now, my mother has been a Montessori teacher since I was 12. I have worked and studied in the early childhood field since I was 16 including assisting my own mother for 2 years in a Montessori toddler community in Annapolis, MD.
I graduated from Salisbury university in Maryland with a BA in interdisciplinary studies, focusing on film photography and childhood psychology. I moved to Asheville with my husband, Billy in 2013 and began assisting at Asheville Montessori school the same year. I completed my Montessori training while interning with the lovely Ms. Anna in 2015. Having my own classroom has been my childhood dreams come to life. I highly value the Montessori Peace Curriculum and strive to create an environment that facilitates peace.
My hobbies and passions, besides Montessori, include yoga, hiking, cooking, supporting my husband in his music career, my cat Murphy, and my dog Clove.